GLO Vial Teeth Whitening Gel
Forget about uncomfortable trays, runny gels, and messy strips. Our patented GLO Vials are designed to let you easily brush on our specially formulated, sensitivity-free, no-drip hydrogen peroxide teeth whitening gel. It only takes seconds to apply and it stays on your teeth without running onto your gums.
Plus, GLO Vials feature an air tight seal inside so you always get fresh, active gel even after opening – no refrigeration required.
Simply brush the gel directly onto your teeth – it will penetrate and evaporate, vaporizing stains and whitening your smile. No messy strips needed and no need to rinse. Each GLO Vial contains enough gel for at least 6 applications.
Use GLO Vials on their own to whiten in seconds on-the-go, or accelerate your results by pairing them with your GLO Device.
GLO Vials are vegan, recyclable, gluten/latex/cruelty-free and are made in USA. They are also a Gold Edison Award Winner for innovation.
Check out these additional features: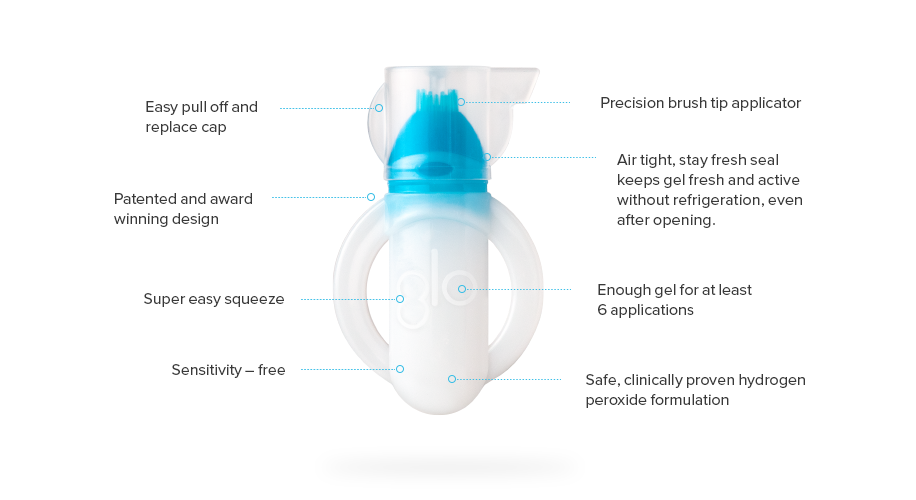 GUIDED LIGHT OPTICS (G.L.O) ACCELERATING TECHNOLOGY
The GLO Teeth Whitening Device
The magic is in the warming heat acceleration!
Invented by NYC aesthetic dentist and world renowned oral health expert, Dr. Jonathan B. Levine, the GLO Teeth Whitening Device harnesses the power of Guided Light Optics (G.L.O.) technology to accelerate your results.
Special heat resistors and light reflectors inside the mouthpiece direct the energy of gentle warming heat and safe 470nm LED light into the whitening gel, speeding up the whitening process by energizing the hydrogen peroxide formulation, surrounding each tooth with more whitening power and leading to faster results – without sensitivity.
This patented, one-of-a-kind technology is available only from GLO Science and is registered with the FDA. It has been recognized with a Silver Edison Award for innovation and is the same teeth whitening technology used in thousands of dental practices.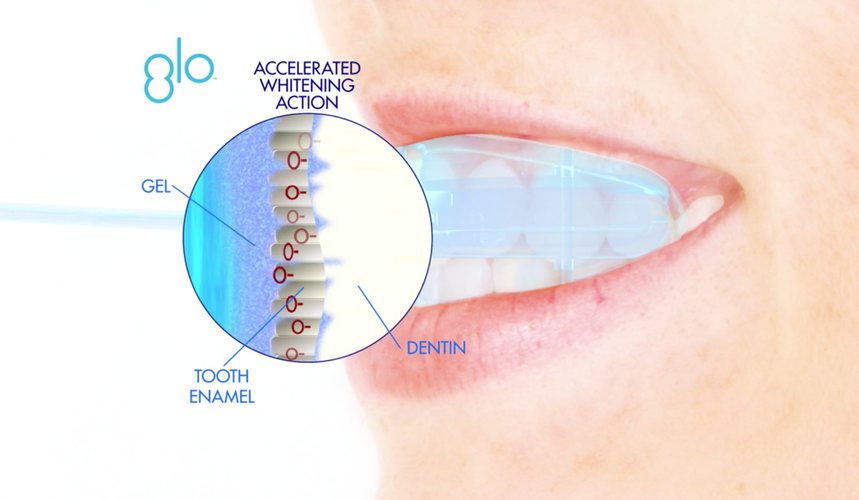 1. Apply GLO Lip Treatment

2. Pull cap off GLO Vial and squeeze small bead of gel (1/2 pea size) onto applicator brush tip.

3. Brush thin layer of gel onto top and bottom teeth, fronts only.

4. Insert mouthpiece and tap button on Power Pack or in the GLO Whitening App (if using GLO Lit) to illuminate. The mouthpiece will turn off automatically when your 8 minutes are complete. For best results, complete 3 consecutive 8-minute applications each day for 7 days or until desired results are achieved.